© 2010 Wadadli West USA Inc. All rights reserved.

LIKE WHAT WE DO?

Check us out

Look at what we are doing

- We are helping our neighbors!

- We are caring for the elderly!

- We are empowering our youths!

Wadadli West USA Inc delivers on its promises: Eustace "Bootses" Watkins received a Medical Mobility Scooter.

…Started here as one of our goals

PURCHASING A WHEELCHAIR FOR MR. EUSTACE "BOOTSES" WATKINS

Eustace "Bootses" Watkins" is a proud resident of the Point and Villa Area communities. For many years he has dazzled us with his football prowess while he represented one of the area's teams. Nineteen years ago, just after he finished his football career, Bootses became ill and lost the ability to use his legs. For this length of time he has been confined to his home with limited access to the outside world. In one of our visits to his home he cried out for our help and we have heard him. In 2011, we will be using some of the donations which we have received, from our fundraising events, to donate a much needed motorized wheelchair to Mr. Watkins to assist his mobility beyond that of the confines of his home. Thank you supporters!

…Now here is the Outcome

DELIVERY OF THE MOBILITY SCOOTER!

In the winter of 2010, our organization made a promise to Mr. Eustace "Boothses" Watkins that we were going to lend him a helping hand in regaining some of his mobility by providing him with a regular wheelchair. But our organization did not stop there for we thought that he deserved better. So instead of this wheelchair, we went much further for our team all concurred that we should get him a mobility scooter, which we did. Although there were many red tape issues in the releasing of this scooter from our customs in Antigua, finally on October 21, 2011, Bootses life was changed forever as we presented him with his new mobility scooter. By the way, Bootses is so elated about his new scooter that if you are expecting to find him at home any time soon, good luck!

Mr. Devon Baynes also received a Medical Mobility Scooter.

  While we were finalizing our efforts in getting Mr. Watkins his scooter, the greatest thing happened. A Good Samaritan from Brooklyn named Ms. Kate Conyers donated a mobility scooter to our Organization. Right away, we knew that this scooter was earmarked for Mr. Devon Baynes. It is efforts like these that make us believe in miracles. When we receive the news from Ms Conyers about the scooter, we were over joy for we knew that our next huge project was also getting Mr. Baynes a mobility scooter. On November 23, 2011, it all came together. In front of a gathering fill with dignitaries and ABS TV, Mr. Baynes was presented with his mobility scooter.

At this juncture, let us give thanks to you our friends and supporters for all your efforts. Let me remind you that it is through the proceeds from our Bus Rides, Fish Fry, Dinners, and other events, which you have gallantly supported, that made all this possible. No frills!  On behalf of all the recipients of our charities and our team at Wadadli West USA Inc, we sincerely thank you.

3. Mr. Devon Baynes as he addresses ABS TV and the gathering during the presentation of his Mobility Scooter.

4. Mr. Devon Baynes on poses on his new Mobility Scooter.

Providing assistance to the seniors in our communities and those at the Fiennes Institute in Antigua

Giving back to the elderly has been one of our greatest aspirations. How could we ever forget the mothers, fathers, uncles, and aunts who worked tirelessly to  shape us into who we are today? In the twilight of their years and in the present state of the world's economy, they need us more now than ever. This year, we will be playing a far greater role in helping the senior citizens of our communities and beyond. Please assist us  in achieving these goals.

Providing School Supplies to Villa Junior Secondary School

Our organization has placed enormous emphasis in helping the Villa Junior Secondary School. This school has been dubbed as the cradle of education in our communities. Most of us from the Point, Villa, Fort Road, and Yorks  communities started our school years at this institution. As the school strive to maintain its excellence, we hope that we can continue to be of relevance to them by providing the tools needed to succeed.   This year, as an ongoing process, we will be donating school supplies once again to the students of the school. Many thanks to you our supporter for making all this possible.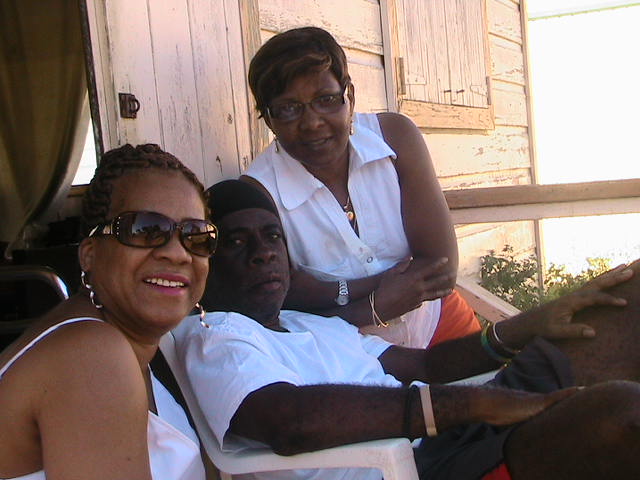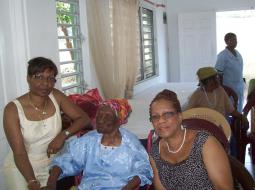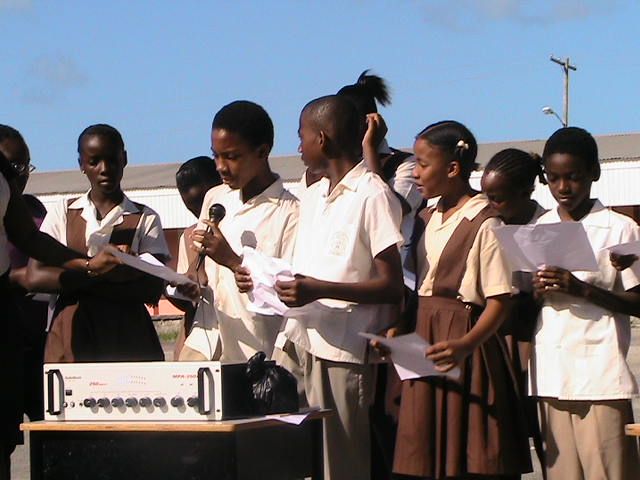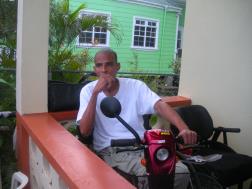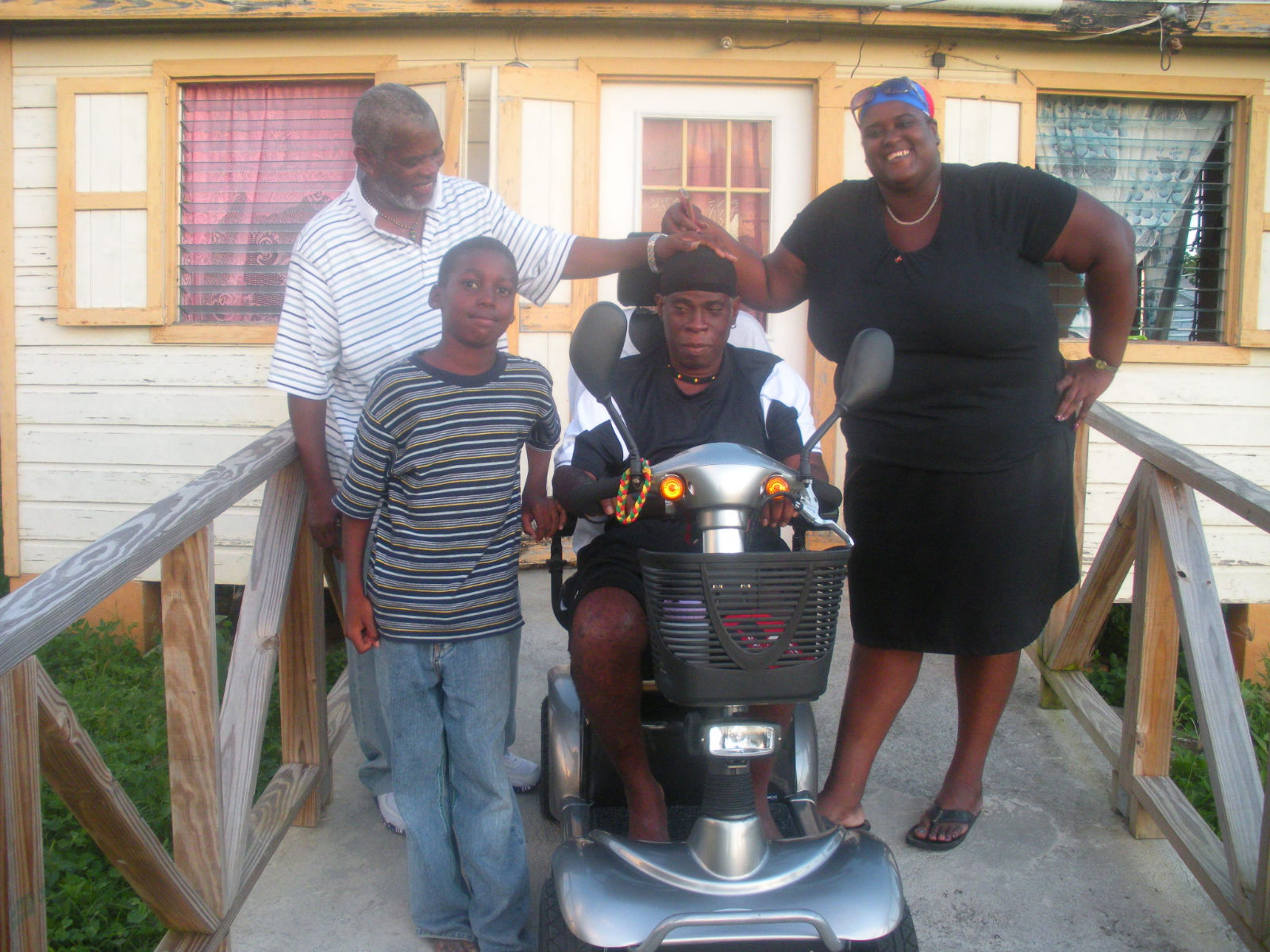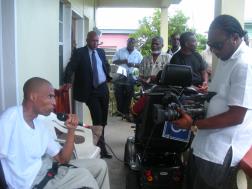 1. Eustace Boothses Watkins surrounding by Joyce 

    DeCastro & Janice Donaldson Taylor

2. Boothses on his new mobility scooter and in the 

    company of 2 members of  Wadadi West ANU and

    his little caretaker

5. Ms. Janice Donaldson Taylor (left) and Ms. Joyce DeCastro (right) enjoying a beautiful moment with the

    eldest citizen in Antigua and Barbuda on their visit to the Fiennes Institute.

6. Sudent of the Villa Junior Secondary School performing a skit during cultural day 2010